Miscellaneous Toggle Clamps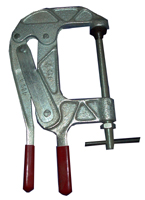 This is a heavy duty, quick acting toggle C clamp. This toggle C clamp is made with cast iron parts for added strength. It is popular in fabrication applications to quickly clamp large parts together. The throat depth is 3 1/8", maximum jaw opening is 4 1/4", the overall length is 12 7/8" and the weight is 5 1/2 pounds.
Hold Rating: 2000 lbs.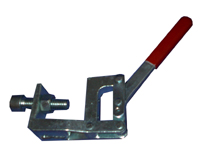 This clamp is ruggedly constructed for underneath clamping. It can be used for many different clamping problems. One example: to lock a hinged cap in place. Clamp has 1/8" diameter lock pin hole. The handle moves 80 degrees and the spindle rotates to clear the mounting surface.
Hold Rating: 200 lbs.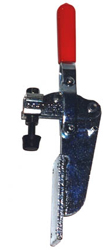 This is similar to our UA-1 clamp, but with a unique angled mounting arrangement. The clamp is equipped with a rubber tipped fine threaded spindle.
Hold Rating: 200 lbs.